Best external speakers for MacBook to improve the sound of your Apple gadget. What to pay attention to and what are the most trendy ones? Answers are here.
Best External Speakers for MacBook in 2021 - Trends & Basics
In our world of technologies, people always have a strong desire to reach perfection in everything they use. When it comes to gadgets for day-to-day tasks, they think that the more powerful and modern it is the more pleasure they get in return when working with it. As a result, the user experience gets a boost.
But what if you have the newest MacBook, but the sound could use improvement? How to choose the best speakers from those on the market? How to avoid spending more and being manipulated by those dubious sellers? You will get all these answers after reading this guide with a short checklist for MacBook users.
Choosing a Sound System: How-To Guide
Multimedia speakers are two or more speaker systems with a power amplifier. The power amplifier can be inside the speaker box or function as a separate unit.
Depending on the number of channels, multimedia speakers can be: 1.0, 2.0, 2.1, 3.1, 4.0, 4.1, 5.0, 5.1, 6.1, 7.1.
In this article, we will discuss the 2.0 and 2.1 sound systems.
System 2.0 consists of two speakers that can play stereo surround sound. This type of a sound system suits best for listening to background music while working at the computer.
System 2.1 includes a subwoofer. The subwoofer is a device designed to reproduce a low-frequency signal (up to 100 Hz).
Ordinary front speakers are not capable of producing deep, truly low bass. To get good low frequencies, a subwoofer is a must. The presence of deep bass in the sound is especially important when watching a movie and/or playing computer games.
When choosing speakers, you should pay special attention to the material from which the case is made. Not only does the appearance of the speakers depend on this, but also the sound quality and the price. Typical materials used in the manufacture of the case are plastic, wood, and MDF.
Advantages of plastic speakers are small size, ergonomics, a wide range of engineering and design forms and colors, as well as low price.
Disadvantages: the small size that does not allow reaching low frequencies, rattling at medium and high volumes, mid-frequency resonances in the sound.
The advantage the wooden case provides is an ample internal volume, which is necessary for higher quality sound in the mid and low frequencies.
Disadvantages are a large size and weight; the external speakers are usually bulky and conservative in appearance, the price is higher compared to plastic ones.
Modern external speakers are usually made of MDF (Medium Density Fiberboard). We recommend that you stop your choice in favor of this material for your future speakers' case. The MDF case has almost all the advantages of wooden cases, but its price is much lower.
For deep, rich bass, the subwoofer case should be made of wood or MDF.
Top 5 external speakers for MacBook in 2021 - Comparative Table
Logitech Z625 Powerful THX Sound 2.1 Speaker System

Connects to 3 entertainment devices simultaneously

Speaker Type: Wireless/wired


Power Source: Optical, headphone jack (3.5 millimeters), or RCA inputs


Control Method: On-speaker, control pod


Bose Companion 2 Series III Multimedia Speakers

Play an additional device just connect to the auxiliary input

Power Source: 3.5mm AUX & PC Input


Control Method: Front-panel volume control


Beats Pill+ Portable Wireless Speaker

Portable, wireless, designed in red, white & black

Sound Channel: Stereo Active 2-way Crossover system


Speaker Type: Wireless speaker


Power Source: Type of jack: lightning to USB-A charging cable


Yamaha NX-50 Premium Computer Speakers

Sound Channel: Static-y sound; 7W per channel


Power Source: Corded electric


Control Method: Front-panel volume control and headphone jack


Logitech Z-4I 2.1 Speaker System

Award-winning Logitech pressure-driver subwoofer

Speaker Type: Z-4i speaker system


Power Source: Corded electric

Logitech Z625 Powerful THX Sound 2.1 Speaker System
If the question comes to music creation, you need to buy additional sound equipment. For an improved multimedia and gaming experience at home, or even for playing your vibes to the audience, in disco halls, techno parties, or elsewhere, we recommend Logitech Z625 Powerful THX Sound 2.1 Speaker System.
Logitech Z625 Powerful THX Sound 2.1 Speaker System has a brand new design that is close to old-school speakers but with modern tendencies. With its oval-shaped and silky looking and a metal grid done in sophisticated ascetic brown, your audience will be taken aback indulging in the deepest bass beats vibrations. The combo of a satellite speaker set and a subwoofer maxes out at 400 Watts.
To take your audio streaming pastime to the next level, you can't go wrong with a bundle containing the Logitech Z625 Powerful THX Sound 2.1 Speaker System and the Logitech Bluetooth Audio Adapter. This is your best bet if you need to stream audio content from your smartphone or tablet. The adapter allows you to pair several mobile devices with the speakers simultaneously and then choose the music streaming source at will with a single tap. The adapter boasts long-range wireless connectivity so that you can stream from up to 50 feet away from the speaker system.
Yamaha NX-50 Premium vs Bose Companion
The Yamaha brand was the king of sound even in the late '80s. Consider using Yamaha NX-50 Premium Computer Speakers for mixing sounds like a pro.
The top 5 features are:
Two mini-jacks enable auto-mix creation by playing two sources of music at a time;
User-friendly front-panel volume control system;
Headphone jack with high definition sound;
Auto standby feature decreases electric power consumption;
Solid black design with built-in metal grills.
Vivid, colorful, and lively sounding. Especially when playing jazz or classical music.
If you are not an old-school sound maker and prefer more modern brands, the Bose is definitely your perfect choice.
Bose is considered as the brand of a true world of beat-makers nowadays.
The speakers will amaze you with 5 features:
TrueSpace stereo digital processing circuitry;
Auxiliary input will bring Bose performance to another audio source (iPhone or iPad);
High-frequency volume with no unwanted background sounds;
Convenient volume control/headphone jack in the front part of the right speaker;
Active equalization.
Connect them to your MacBook and feel the sounds vibing deeply in your soul and body. The vibes coming out of the speakers will take you away from the daily routine. Indulge yourself listening to perfection created by the Bose brand.
As we can see from the review above, the two are intended for almost the same purposes. But the main distinguishing feature is that the Bose are more frequently used by gamers (to play gaming sounds) and Yamaha is for music lovers of all genres.
Beats Pill+ Portable Wireless Speaker
If you prefer modern portable wireless devices for your MacBook, the Beats Pill+ will be your ultimate choice.
The Beats brand has been on the top-notch of popularity among the true beat and high definition vibes lovers.  A lot of attention was paid to the Pill+ Bluetooth speaker. This portable wireless speaker was one of the best sounding speakers in our testing. The device looks sleek and has plenty of juice to power an all-night party.
The Pill+ can play a decent sound and scored a 7 out of 10 in our loudness tests, which ranged from 4 to 9. At the maximum volume, the music starts to sound a little thin and high. The music could still be easily heard amid conversations of a large group of friends, but it can drown out a bit if you're going to have a big rowdy party.
In our review, this gadget is the most sophisticated and modern one across the spectrum.
Logitech Z-4I 2.1 Speaker System
The two satellite speakers measure 9 inches high, 3 inches wide, and 3 inches deep. The frequency response is 35Hz to 20kHz. Each delivers 17 watts of power using one active concave dome driver and two pressure drivers (all 2 inches in diameter).
The subwoofer delivers 23 watts of power via an 8-inch pressure driver. At 9 inches wide, 9 inches high, and 9.5 inches deep, the subwoofer is big enough, so you'll need more free space under your table.
The Logitech Z-4I has a greatly improved wired remote control, compared to the Z-3s' remote. The new one offers an auxiliary input for any hardware with a standard line-out jack (such as an iPod or iPhone). The speakers have a knob to control the volume of the subwoofer. This feature comes in handy when switching back and forth between gaming and listening to music.
Do MacBooks Have Good Speakers?
When Apple launched the 16-inch MacBook Pro, it brought more than a bigger screen. The device also got "a completely redesigned six-speaker, the high-fidelity sound system" with studio microphones and "Apple-patented force-canceling woofers that use dual opposed speaker drivers to reduce unwanted vibrations that distort the sound."
Sadly, the new MacBook Pro has the same old stereo speakers with a high dynamic range that sound fine but won't be rattling any eardrums. So, for sophisticated music lovers we've prepared the two upgrades with modern high-tech design and for an affordable price.
Which MacBook Has the Best Speakers?
If you have come across this article, you might be looking for the best sounds coming from your MacBook for your music creation masterpieces. As of early 2021, the best are:
Apple MacBook Pro M1 13″
Apple MacBook Pro 16″
Let's dwell deeper on the peculiarities of each of these sound devices.
In the former model, Apple has switched to its own ARM processor M1. It has significantly increased the overall performance compared to its predecessors. But does this Apple innovation also improve the sound coming out from the built-in speakers? And if the sound still needs improvement, what speakers will suit you the best? Let's solve this out.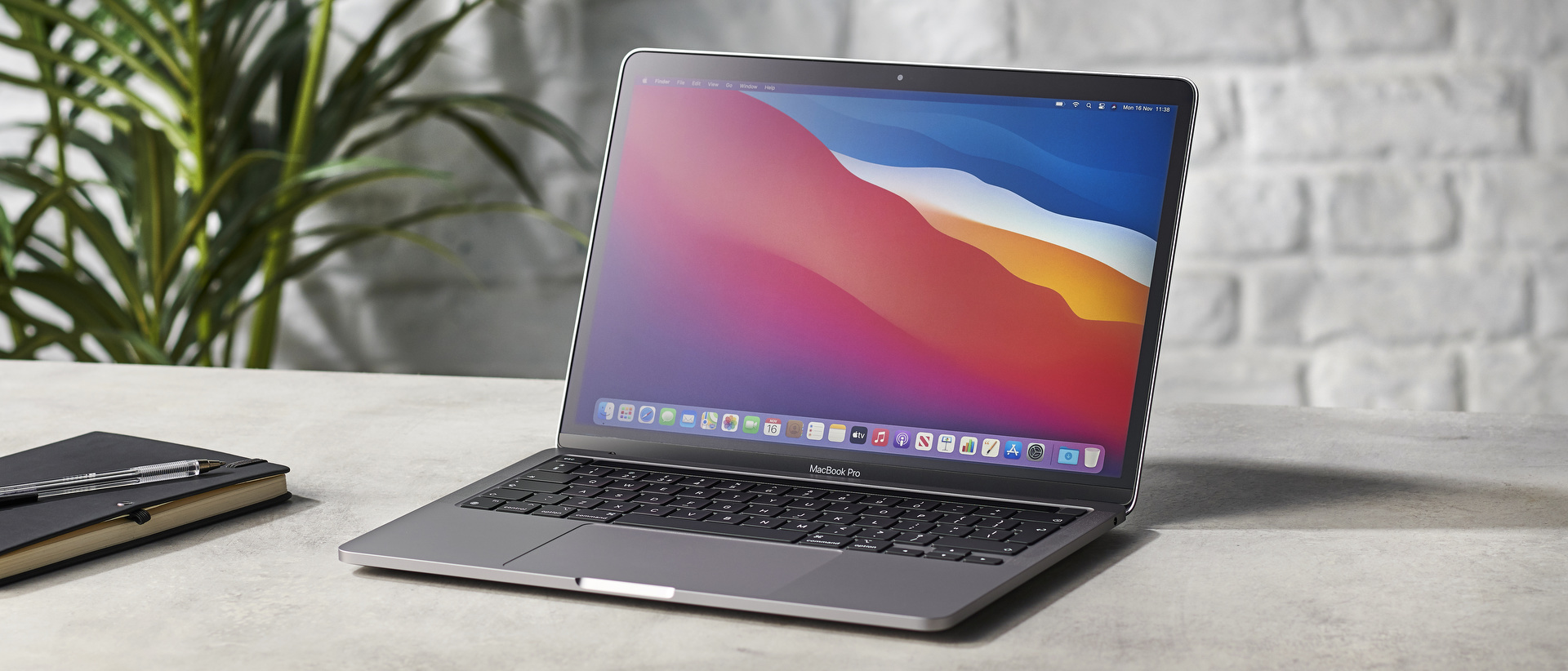 The latter model of Apple gadget is still the best for sound creators. Yes, for amateurs or beginners in this awesome world of music vibes the built-ins are pretty good value for money. But for more profi DJs, we recommend using external speaker systems to better your vibes.
Can I Connect Speakers to My MacBook Pro?
Absolutely. Plus, it's a no-brainer. You can connect most speaker systems across the spectrum to your MacBook Pro via a 3.5 millimeter headphone jack. If you aren't okay with this one-size-fits-all option for whatever reason, consider getting yourself a USB interface adapter with RCA inputs. Depending on the specifications of the audio system you need to connect, the other options may include optical input, Thunderbolt port, or Bluetooth.
How Can I Improve the Sound on My MacBook?
As experts say, Mac sound quality has never been perfect: lack of bass, flat and quiet sound, lack of low frequencies, etc. And if we risked using the built-in speakers, then everything is even worse…
Besides, the Mac itself does not have a decent equalizer and not all players for Apple devices are equipped with it. And, even if you find players with equalizers for all of your media files and spend a lot of time customizing each, what about streaming? Be content with poor quality live streams? This is not the case especially when you bought a MacBook for music creation.
Do not panic, here we found two of the most powerful apps for boosting your sound even without buying a speaker system.
Boom Volume 3D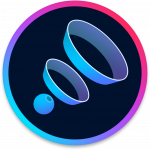 This equalizer for Mac starts to amaze you from the very beginning with its pleasant and user-friendly design.
When you start Boom for the first time, it will determine your MacBook model and install the best equalizer preset. Note that even with the standard preset, the sound quality will be noticeably better than before.
Equalizer for Mac already has twenty presets sorted by genre and one that was created during the app calibration.
You can manually increase or decrease the frequency level. Boom will show you which frequency you are going to tune.
By default, the frequency range is 32 Hz – 16 kHz with ten gradations available. But if you turn on the "Advanced" mode, the number of gradations will increase. Also, there are two more features: "3D surround sound" and "Ambience" with four available effects.
Hear for macOS
This one is more sophisticated and has more manual settings a user can tweak. However, the interface is simple and contains colorful icons, so you can intuitively adjust your MacBook sound to its best.
3D Surround – 3D surround sound effect (3D tab).
Extended Space – the effect of "spatial" sound, which emulates the reflection of sound from surfaces behind the listener (Space tab).
Extended FX – to process an aggressive type of surround (FX tab).
Extended Fidelity – additional audio processing for revealing sound nuances damaged by audio data compression (Fidelity tab).
Ambience – a more precise setting for the "spatial" sounds reflection (Ambience tab).
Maximizer is an audio frequency amplifier that allows you to smoothly raise the sound level in that part of the range where the natural sounding of the acoustics subsides (Maximizer tab).
Virtual Subwoofer – additional adjustable bass boosting for two speakers as if they were working together with a real subwoofer; in some cases, it allows you to squeeze out very soft but powerful bass from the acoustics (Subtab).
Compressor / Limiter – sound compression setting – the difference between the quietest and loudest sounds; in other words, smoothing the sound volume (Limiter tab).
Equalizer – includes a built-in Hear equalizer (EQ tab).
FAT – making the overall sound clearer; to some extent, emulates the operation of a tube amplifier.
Additionally, the Enable group does not reflect the Mixer, BW, and Speaker tabs. The mixer allows you to adjust the audio volume individually for each app that Hear recognizes. It is also possible to individually turn off all sound processing, letting it through the Hear audio output.
Expert Verdict
Traditionally, we post our expert opinion and recommend the best product for your needs. However, as you can see from the comparison review above, all these items are for different purposes. So, define your basic needs and wants and choose the most suitable one for you. Or you can always buy them all and test all these pretty gadgets for yourself.