When considering options to boost the performance of your MacBook Pro, especially if it's an older model, an internal storage upgrade definitely belongs on your checklist. Solid State Drive (SSD) is the name of the game as it offers several major advantages over traditional HDDs. These include multiple times higher read and write speeds, greater energy efficiency, smaller dimensions and weight, better shock resistance, and absolutely no clicking or grinding noise.
Because the flash-memory based technology functionally eclipses the spinning hard drive design in many ways, a MacBook Pro with an SSD on board boots much faster, launches apps in a snap, and transfers large amounts of data in the blink of an eye. Your laptop will also run longer when on battery power.
Although SSDs are more expensive than HDDs, the price gap has shrunk considerably over the past few years. With the growing affordability and plenty of benefits, the upgrade is worth the effort no matter how you slice it. If you have decided to take the hardware leap by replacing your MacBook Pro's current storage with a modern SSD, this article will point you in the right direction.
Things to consider when choosing an SSD for MacBook Pro
MacBook Pro upgradeability
First things first, make sure your Apple laptop supports hardware upgrades. Unfortunately, hard disk replacement isn't possible for some models. For instance, Late 2016 MacBook Pro and newer machines equipped with Touch Bar aren't upgradeable. If you don't know the exact model you have, click the Apple icon at the top left of your screen and select "About This Mac" in the drop-down menu.
Now, check if your laptop model is on the following list:
MacBook Pro 13" (2009 – 2012)
MacBook Pro 13" with Retina Display (late 2012 – early 2015)
MacBook Pro 15" (2008 – 2012)
MacBook Pro 15" with Retina Display (mid 2012 – mid 2015)
MacBook Pro 17" (all models)
If it's there, go ahead and look for the optimal SSD that meets your requirements. Otherwise, an internal upgrade is a no-go and you'll have to stick with your current storage.
Different MacBook Pro models are equipped with different types of disk controllers. This specification matters because it reflects what kind of an SSD upgrade your laptop supports. To check this property, click the Apple icon in the Finder area, select "About This Mac", and click the "System Report" button. Then, select "SATA/SATA Express" in the sidebar and look at the "Physical Interconnect" entry. It's going to be either SATA or PCIe.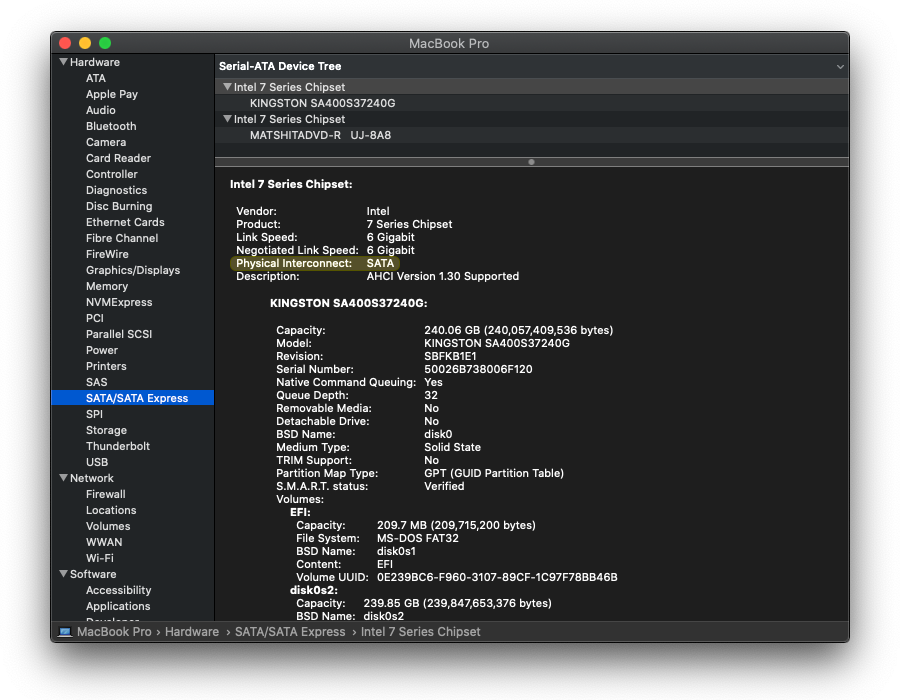 Depending on the controller type you have just determined, you can install a drive with the corresponding interface. The table below will give you a better idea of the appropriate SSD form factor you need for the upgrade.

| | | | | | | |
| --- | --- | --- | --- | --- | --- | --- |
| | | Late 2008, early 2009, early 2010 | Early 2011 through mid 2012 | Retina mid 2012 through early 2013 | Late 2013 through late 2016 | MacBook Pro with Touch Bar (late 2016 and newer) |
| Type of controller inside | | | | | | |
| | | | | | | |
| | | | | | | |
If your MacBook Pro has any generation of the SATA interface, then a
2.5" SATA SSD
is your best bet for an internal upgrade. For Apple laptops with Mini PCIe controller inside,
mSATA SSD
is the suitable type. If you own a model with PCIe, look for an SSD with
M.2 PCIe
form factor.
This criterion mostly boils down to the read and write sequential speeds that denote how fast the disk opens and saves data. The best SSDs for MacBook Pro provide read and write speeds of at least 500 MB/s. Compared to traditional spinning hard drives whose typical performance range is 80-160 MB/s, that's a huge difference you'll notice with the naked eye. It's noteworthy that SSDs with M.2 PCIe interface provide jaw-dropping speeds of up to 3500 MB/s.
With the ever-growing amounts of data users store on their laptops and the expanding range of applications in use, the minimum reasonable capacity for SSDs is 250 GB. That's the entry-level threshold across the industry. However, it's barely enough for the average user these days: macOS alone, a dozen apps, plus personal photos and videos will quickly drain the space. 500 GB, the next available option, is better but still on the brink of overconsumption.
I recommend you go for at least 1 TB, and for good reason. The price difference isn't very significant compared to lower-capacity counterparts (it's not proportional to disk space increment), but you can rest assured it will suffice and there will probably be a comfortable margin left.
Best SSD for MacBook Pro upgrade – The comparison table
Read/Write Speed: 560/510 MB/s


Hardware Interface: SATA III


Read/Write Speed: 560/530 MB/s


Hardware Interface: SATA III


Read/Write Speed: 560/530 MB/s


Hardware Interface: SATA III


Read/Write Speed: 3500/3200 MB/s


Hardware Interface: PCIe (PCI Express)


Read/Write Speed: 520 MB/s


Hardware Interface: SATA III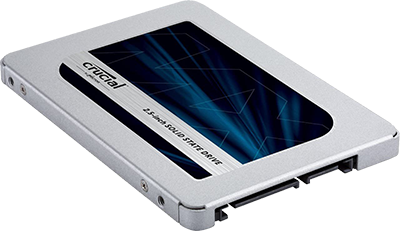 Those of you looking for an affordable and reliable SSD with decent performance and enough capacity can't go wrong with the Crucial MX500 internal drive. Featuring a 2.5 inch form factor, it saves you the hassle of tedious installation in your compatible MacBook Pro. With the sequential read and write speeds up to 560/510 MB/s, respectively, it will deliver an approximately fivefold productivity increase compared to the average HDD.
This drive uses the Micron 3D NAND technology, which means that its flash memory cells are arranged vertically for speedier interoperability and thus maximum efficiency. It's also equipped with a power loss immunity mechanism that keeps your saved data intact if your MacBook Pro's battery drains unexpectedly.
Trusted brand
Reliable
Commendable read/write speeds
Good value for money
One-size-fits-all form factor for older MacBook Pro models
Somewhat dated look and feel
S
amsung 870 EVO SSD earns a spot in my review for a reason. It's based on the tech giant's revolutionary 6th-generation V-NAND architecture that considerably improves energy efficiency, reduces latency, and ensures stable performance when multitasking.
This drive boasts 560/530 MB/s sequential speeds, allowing you to benefit from today's highest productivity for the SATA interface. Splendid data exchange agility makes this storage perfect for everyday and pro users alike.
With the 2.5 inch form factor and weight of 0.19 lbs (0.08 kg), it fits a compatible MacBook Pro's hard disk slot seamlessly. The drive also comes with a data migration tool and the Samsung Magician software you can use for post-install maintenance. It's pricier than the counterpart from Crucial above, though.
Pioneering V-NAND technology
One of the speediest SSDs of its kind
Great track record among professional users
Tried-and-tested reliability
Price tag
Data cloning with the built-in app isn't very intuitive
This minimalist Rain Design stand is highly recommended for those who love holding the laptop on their laps. Its special design with cushions makes it very comfy and practical. The unit lacks fans as it belongs to the passive type of coolers. Lightweight aluminum absorbs all the heat. Excellent for silent and extremely comfy working experience even on the couch or in bed. The iLap Stand perfectly matches the style of Apple products.
Sturdy design, hence outstanding endurance
Low power consumption
Combines 3D NAND and nCACHE 2.0 technologies for higher productivity
Real-world benchmarking test results could use an uptick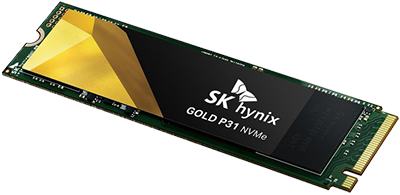 Remember I mentioned that SSDs come in various shapes and sizes? Well, unlike the products above, SK hynix Gold P31 has an M.2 form factor and works with the PCIe (PCI Express) hardware interface. Not only does it look completely different (resembling a memory chip to an extent), but it also outstrips its 2.5 inch rivals in terms of performance. Its read/write speeds are as high as 3500 MB/s and 3200 MB/s, respectively. That's an unparalleled rate no SATA counterparts can measure up against.
If you own a MacBook Pro released from late 2013 to late 2016 (without Touch Bar), this SSD is your prime candidate for a storage upgrade. Its high-performance bandwidth fits the bill if you work with graphics editing tools, play resource-intensive video games, write code, or deal with data analytics. This drive is equipped with a temperature control mechanism that guarantees stable operation regardless of functional load.
Up to six times higher speeds compared to SATA SSDs
Tiny and lightweight
Tackles heavy-duty usage scenarios with flying colors
There's a gap between theoretical and actual speeds
Not clear how to get firmware updates at this point
KINGSTON Digital SUV500MS is suitable for mid 2012 – early 2013 Retina MacBook Pro models with Mini PCIe controller and mSATA SSD interface specification. It delivers read speed of up to 520 MB/s, which is a gold standard for traditional SSDs. This product is powered by the 3D TLC (triple-level cell) NAND technology that provides a fusion of endurance and high-speed data transfer.
As far as security goes, it keeps your files and apps intact by leveraging self-encryption with AES 256-bit symmetric algorithm. A significant downside is that the only available storage capacity is 480 GB, which is barely enough for many users these days. If you happen to be okay with this amount of disk space, though, then this mSATA drive is worth considering. By the way, it's cheaper than the other SSDs on my list.
A real find, given that this form factor is increasingly rare
Affordable
Low capacity
Read speed isn't impressive
FAQs
Can I upgrade my MacBook Pro SSD?
Some upgradeable MacBook Pro laptops came with SSDs out of the box. These include mid 2012 to early 2013 Retina machines as well as all models released in late 2013 to late 2016. If you own one of these and its storage is acting up or is no longer enough, you can upgrade the original drive with a new SSD. Keep in mind, though, that the former category requires an mSATA SSD, and the latter is only compatible with M.2 PCIe storage. Non-Retina 2012 MacBook Pro and earlier models can be upgraded with 2.5 inch SSDs.
Can SSD in MacBook Air be upgraded?
There is a misconception that MacBook Air storage cannot be upgraded. That's not true, unless you use a 2018 model or later in which the drive is soldered into the motherboard. To swap your current SSD for another one, the only tools you'll need are a Torx T5 and a Pentalobe screwdriver. Importantly, you can't install a classic 2.5 inch drive in your MacBook Air. You'll need an SSD compatible with Apple's M.2 NVMe (NVM Express) proprietary interface, so do some research when choosing the product to make sure it fits.
Will any SSD work with MacBook Pro?
No. This is a model-specific matter. As previously mentioned, you may need a 2.5 inch, an mSATA, or an M.2 PCIe storage device. The choice depends on the hard drive interface your Apple laptop is equipped with. Please see the compatibility table in the "Interface" section of this review to get yourself the right type for the upgrade.
Will a SSD make my MacBook faster?
Definitely, especially if you are currently using a traditional HDD. SSDs are based on an entirely different storage logic and provide read and write speeds that are several or even dozens of times higher than classic drives with spinning platters can deliver. The performance increase is dramatic (approximately 160 MB/s versus 560 MB/s) even if you replace your disk with a mainstream 2.5 inch SATA SSD. If your MacBook Pro is compatible with an M.2 PCIe SSD, sequential speeds can reach a whopping 3500 MB/s.
Which SSD is best for my MacBook?
Assuming you have figured out the appropriate SSD form factor already, look at the characteristics such as read/write speeds, storage capacity, and flash memory implementation design. For maximum productivity, choose a Solid State Drive that uses the 3D NAND (or V-NAND) memory cells architecture rather than planar NAND where cells are stacked horizontally. Checking the energy efficiency specs before you make up your mind is a good idea, too. Another important criterion is the availability of built-in software for data migration (disk cloning), maintenance, and SSD firmware updates.
Conclusion
As is the case with memory (RAM), storage type is one of the common bottlenecks that can slow down your MacBook Pro. Thankfully, you can maximize your laptop's performance as long as it supports a disk upgrade. Replacing an old-school HDD with a brand-new SSD will absolutely do the trick.
If you decide to take this route, do your homework first and determine the compatible form factor (2.5 inch SATA, mSATA, or M.2 PCIe). Also, come up with the list of criteria for your perfect SSD, such as the read and write sequential speeds, capacity, durability, NAND technology type, warranty, the software it comes with, and price. I did my best to include the optimal choices for different upgradeable MacBook Pro models so that you can take a shortcut with the decision and make the most of your daily driver.